the true story of the flood
If you're looking for signed copies of Louise Erdrich's The Round House in Mystic, Connecticut, I'm sorry. I couldn't resist. I bought the third to last one Wednesday, even though I have no room in my suitcase, because I love knowing the book in my hands has been in the author's hands first. And I bought the last copy
yesterday because it will make a great gift for someone, or perhaps will become the fought-over book of this year's Wednesday Sisters Book Club Holiday Brawl.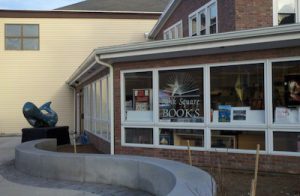 When I went into Bank Square Books Wednesday, I chatted with Julie, who was manning the counter. We oohhhed and aaahhhed over the nice stack of copies of My Bookstore there, and about how they weathered the storm. A little flooding, she said. The beautiful floor was new, and nicer than the carpet it replaced.
When I went back yesterday afternoon to get another copy of The Round House (and, okay, to have the excuse to hang out there again), I met Patience, who is one of the store's co-owners, and learned that their My Bookstore essay was a delightful surprise to them. They had not know Ann Haywood Leal was writing it until it was published!
But it was the third time I was in the store, the second time yesterday (because, really, do I need an excuse to hang out in a bookstore?), that I heard the true story of the flood from Annie, the other co-owner.
"Some flooding"? Water to about knee level. Floors and lower walls replaced. Books saved because they'd been moved to higher shelves and tabletops before the storm, and later to a mercifully unoccupied apartment above the store. There is a terrific news story about how this wonderful store survived Sandy, which you can find on their website.
They were closed for weeks, and only re-opened a few days before I arrived in Mystic–which means they lost three week's of sales, and November weeks at that.
Come to Mystic today to see Santa arriving by boat and the parade, but stay for the books. There are still a few signed copies of Richard Russo's memoir … although I'll still be in town for two more days, so you better get them fast! – Meg
Bank Square Books is at 53 W. Main Street, Mystic CT and on twitter at @banksquarebks
Independent bookstores help new writers find an audience, and keep literature vibrant. If you don't live near this one, please see the list of others in the sidebar under "Bookstores Worth Browsing." Don't see your favorite here yet? Please email me and I'll do my best to have it featured here.