A new bookstore in my old home town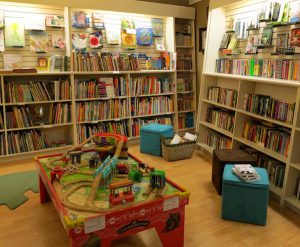 My best writer-pal, Brenda Rickman Vantrease, and I stopped in to see Parnassus Books while I was in Nashville last week. This lovely little store has been filling the void left with the closing of Davis Kidd, where our writing group gathered when I lived there, for almost a year.
The store was packed for an an author event the first evening we stopped in—people literally standing outside—which made me smile.
I'd met Parnassus co-owner Ann Patchett in the fiction section of Davis Kidd more than a decade ago, and she'd persuaded me to return for a reading that evening; she'd been worried about gathering a crowd for her friend because—as she told me—people don't go to readings.
That's one of the things I love about writing: so many writers are such generous friends.
Parnassus was a bit quieter Friday morning when Brenda and I returned, allowing us time to chat with manager Mary Grey James (who is delightful!) and to browse the stunning space: new releases beautifully displayed at the front (including Tatjana Soli's wonderful The Forgiving Tree), a table for local authors, and an amazing children's section. Patrick was manning the counter when I paid for the three books I bought. He wrapped the one that is a gift, which I gave to my dear friend Sheryl Cohen Solomon Sunday night.
Kudos to Patchett and co-owner Karen Hayes for what they've done with Parnassus Books – Meg


I do occasional posts highlighting independent booksellers, who are so important to helping new literary voices find their audiences; the independents–especially those in the bay area–were instrumental in helping me find mine. If you have a favorite bookstore, please email me and I'll do my best to have it featured here.