No Social Distancing Required for Fictional Friends
Like many now, I'm social distancing. The good news for me is that a writer in these circumstances can collect as many imaginary friends around her as … well, as she can imagine. No six feet of separation required.
A First Draft…by Sherlock Holmes (Not Mine)
I don't usually love first draft, but I have a new novel due at HarperCollins January 2, 2021. And at the moment, that seems very hopeful.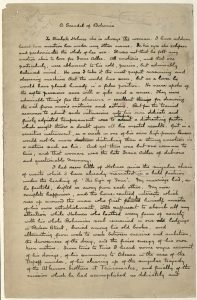 So I'm writing. Keeping word count each day, to remind myself at this stage that a whole bunch of small numbers of words in the end make a book. Starting with Day #1, Tuesday, March 17 — no green beer for this Irish gal because that is when the San Francisco Bay Area Shelter-in-Place Order took effect–this is what my week looked like:
Day #1: 1100
Day #2: 900
Day #3: 900
And yesterday…
Day #4: 1100
Not amazing, but words on the page.
I'm drawing inspiration today from this handwritten first page of a draft of the Sherlock Holmes story A Scandal in Bohemia. Arthur Conan Doyle and his stories played a bit of a role in my last novel, The Last Train to London, which went out into the publishing world as "The Last Train to Baker Street."
Reading
After I'm done writing, I'll read a bit. I don't need to keep six feet from any of the fictional friends I meet in the books I read either.
Love to know what you are reading to get you through. I'm especially interested in learning about recent debut novels, because it's such a tough time to be trying to launch a writing career, and I would like to support anyone trying to.
Stay well!
–Meg