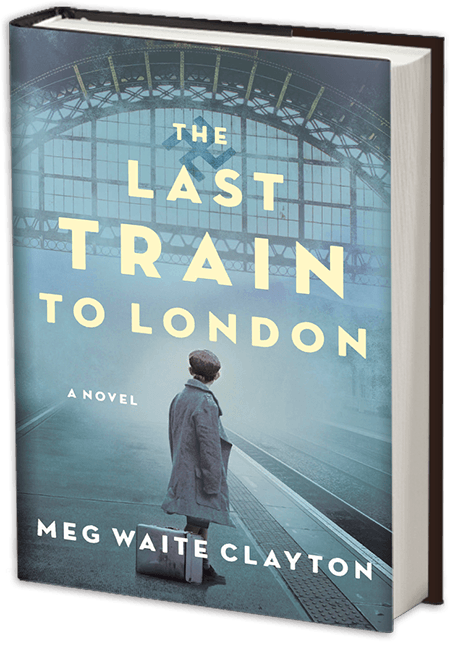 Now in paperback in the U.S.!
Sign up for Meg's Mailing List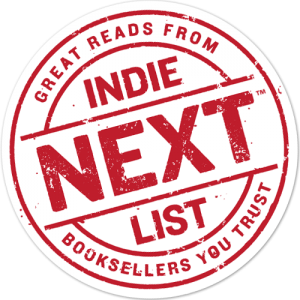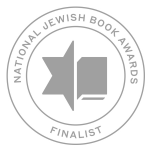 An International Bestseller and National Jewish Book Award finalist! Published or forthcoming in 20 languages
• International Bestseller
• USA Today Bestseller
• National Jewish Book Award finalist
• Canadian National Bestseller
• European bestseller
• Screenplay selected for the Meryl Streep- and Nicole Kidman-sponsored The Writer's Lab
• Indie Next Great Read!
• Historical Novel Society Editor's Choice
• ⭐ Starred reviews in Booklist and Library Journal
• BBC Top 10 Reads
• Cosmopolitan 10 new good books to read
• American Library Association/Booklist "Best New Books"
• New York Post list of the fall books everyone is talking about
• Publishers Weekly's  Book Deal of the Week
• Publisher's Marketplace Buzz Book
• Library Journal most anticipated Historical Fiction titles
• BookExpo's hottest galleys

A powerful pre-WWII era novel based on the true story of the Kindertransport rescue of ten thousand children from Nazi-occupied Europe—and one brave woman who helped them escape.
In 1936, the Nazis are little more than brutish bores to fifteen-year old Stephan Neuman, a budding playwright and son of a wealthy and influential Jewish family in Vienna, Austria. Stephan's best friend and companion is the brilliant Žofie-Helene, a Christian girl whose mother edits a progressive, anti-Nazi newspaper. But the two adolescents' carefree innocence is shattered when Hitler's forces advance.
There is hope in the darkness, though. Truus Wijsmuller, a childless Dutchwoman, risks her life smuggling children out of Nazi-occupied land to the nations that will take them. It is a mission that becomes even more dangerous after the Anschluss—Hitler's annexation of Austria—as, across Europe, countries close their borders to the growing number of refugees desperate to escape.
Tante Truus, as she is known, is determined to save as many children as she can. After Britain passes a measure to take in young refugees from the German Reich, she dares to approach Adolf Eichmann, the man who would later help devise the "Final Solution to the Jewish Question," in a race against time to lead hundreds of children on a perilous journey to freedom.
Watch the Trailer:
Reviews:
"⭐ With its well-developed characters and race-against-the-clock plot, this fantastic novel should have broad appeal." – Heidi Uphoff, Library Journal
"Riveting … Clayton makes vivid Truus's courage and resourcefulness in the face of growing danger as borders close throughout Europe." – Jane Ciabattari, BBC
"⭐ Enlightening, meticulously researched … compelling." – Deborah Donovan, Booklist (starred review)
"An incredibly unique, hopeful and inspirational story about a strong, fierce and determined woman… [It] definitely needs to be shared with the world." – Rebecca Wasniak, Bookreporter
"The Last Train to London … glimmers with hope: the heroism of everyday people putting their own comfortable lives in jeopardy to help others." – Amy Scribner, BookPage
"An engrossing, heart-wrenching, and inspiring account of ordinary people making life-and-death choice in the darkest of times." – Glenn C. Altschuler, The Jerusalem Post
"Excellent … clearly the product of prodigious historical research … serves as a reminder that even in dangerous times, every person can make a difference." – Katherine Read, The San Francisco Examiner
"Excellent novel based on actual events … standout historical fiction that serves as a chilling reminder of how insidious, pervasive evil can gradually seep into everyday lives." – Publishers Weekly
"Listeners will be on the edge of their seats until the very end, rooting for these characters…"— Colleen Regan, Booklist (audiobook review)
"Heartfelt and mesmerizing … takes the reader on an unforgettable journey … If you like books set in World War II featuring complex, courageous female protagonists who were ahead of their time, this book should earn a place at the top of the list." – Hilary Daninhirsch, Historical Novel Reviews (in an Editor's Choice)
Authors are Saying:
"The Last Train to London is an absolutely fascinating, beautifully rendered story of love, loss, and heroism in the dark days leading up to World War II. Clayton perfectly captures the tension and heartbreak of the times, which feel so relevant today. It is a glowing portrait of women rising up against impossible odds to save children." — Kristin Hannah, #1 New York Times bestselling author of The Great Alone and The Nightingale
"What a delight it was to read this brilliant telling of the Kindertransport, a novel threaded with compassion, hope and love. Thank you, Meg Waite Clayton for reminding us of what can happen when good people conspire against evil." — Heather Morris, #1 bestselling author of The Tattooist of Auschwitz
"The Last Train to London is painful and beautiful, absorbing and unforgettable. A wonderful tribute to courage, to a remarkable woman, to the ones she saved, and the ones she could not. Recommend this book to anyone who thinks no single person can make a difference." — Karen Joy Fowler, author of the PEN/Faulkner winner and Booker Prize finalist We Are All Completely Beside Ourselves and The Jane Austen Book Club
"Sometimes a novel comes along that feels both rooted in history, yet timelessly pertinent. The Last Train to London is a brilliant and chilling reminder of history's lessons, told urgently and sympathetically from the viewpoint of the children desperate to flee Hitler's regime, and the women willing to risk all to save them. Meg Waite Clayton's unflinching, evocative prose brings the entwined destinies of Stephan, Žofie-Helene, and Truus to life. The cruelties, large and small, inflicted by the Nazis on their chosen scapegoats echo ominously in today's world, leading us to ponder the thin line separating bravery from indifference. Yet The Last Train to London is also a reminder of love, tenderness, and friendship that blossoms despite tremendous risk. Beautifully written and brimming with hope and gravitas, this is a tale that will transport readers to the edge of their seats, even as the last Kinder Transport prepares, against all odds, to leave for London." — Yangsze Choo, author of the New York Times bestseller and Reese Witherspoon's Hello Sunshine Book Club Pick, The Night Tiger, and The Ghost Bride
"The Last Train to London is a rare thing: intellectually provocative and emotionally moving in equal measure. What a fine tribute to the victims and survivors of the Nazis' early terrors, and to the woman who at great personal risk and sacrifice subverted Hitler's will. It's a timely story, to be sure. Everyone should read this gorgeous book." — Therese Anne Fowler, New York Times bestselling author of Z and A Well-Behaved Woman
Or Trust Independent Booksellers:
(and please consider preordering with them through the links to their stores)
"This novel is stunning – heartbreaking, powerful, beautiful and an absolute must read."
— Margie Scott Tucker, Books Inc.
"If you think you have read all the necessary historical fiction about WWII, prepare yourself for THE LAST TRAIN TO LONDON. Meg Waite Clayton shares the heroic tale of Truus Wijsmuller and her attempt to save as many children as possible from the Nazi regime. The seemingly impossible task of saving hundreds of children in only a few days is a heart pounding thriller that had me reading as if I did not know how the war ended." — Pamela Klinger-Horn, Excelsior Bay Books
"A heart-pounding, tear-producing, thought-provoking, heart-breaking page-turner that will leave you asking 'what would you have done'? Meg Waite Clayton's story of pre-World War II's Kindertransports will change the way you look at today's refugees and make you wonder if as Americans we could, and should, do better." – Kari Erpenbach, UMN Bookstore
"As the noose of the Nazi occupation tightened around Vienna, volunteers worked tirelessly to save children; their efforts culminated in the miracle of the Kindertransports which saved thousands of endangered children by moving them to England. Meg Waite Clayton has written the wonderful The Last Train to London, blending memorable, affecting characters and the historical truths of a terrible time, bringing the reader into another world; a world where the good did not simply sit back and watch. We all need this novel." – Karen Pennington, Books Inc. Palo Alto
"A wonderful and engaging read that is well researched and thoughtfully written.  Excellent character development and plotting round out the greatness of this historical fiction read.  The author grabs you and doesn't let go and even got me to shed a few tears.  I can't wait to put this book in readers' hands." – Gary Parkes, Foxtale Book Shoppe, Woodstock, GA
"A rich, utterly engrossing rendering of true-life heroics from the dark days before the outbreak of World War II. Meg Waite Clayton writes beautifully and with real emotional force about the Kinderstransports which rescued thousands of children from Nazi-occupied Europe. The author brilliantly captures the larger historical sweep of her story, but what really makes the novel sing is the intimate, personal trials of the characters at its heart. A true page-turner which will appeal to fans of ALL THE LIGHT WE CANNOT SEE. I can't wait to sell this one." – Alex George, Skylark Bookshop, Columbia, MO (and amazing novelist!)
"World War II has inspired many novels exploring globe-spanning facets of the war. The Kindertransport is a story worth telling. As is the bravery of a childless Dutch woman and her husband who fought impossible odds and risked everything to save as many children as they could before war commencing on September 1, 1939, shut the Kindertransport down. What Clayton does so heartfeltly is to remind us how one person–Geertruide Wijsmuller, known to the children as Tante Truus–made a stand up, significant difference to unfolding events, displaying a rare courage rescuing Jewish children, that, without the advent of war, she might never have rallied. One person, Clayton underlines, is all it takes to change or amend events." – Barbara Peters, The Poisoned Pen, Scottsdale AZ
"Beautifully written with strong characters and an inspiring and heartbreaking message…this tale of Truus Wijsmuller and her quest to save Jewish children through Kindertransports has it all.  Her portrayal of the children and teens that are transported was vivid, raw, and real.  It makes you think twice about the sacrifices families make for the sake of their children which is as thought-provoking and relevant today as it was 80 years ago." – Gail Dickson, The Bookstore of Glen Ellyn, Glen Ellyn, IL
"I'm not even sure exactly how to review this book. I couldn't put it down. However, it made me FEEL so many things that I can't even put into words why I think it is so wonderful and why I think everyone should read it." – Lisa Smegal, Rivendell Bookstore, Abilene, KS
"A wonderful and engaging read that is well researched and thoughtfully written. Excellent character development and plotting round out the greatness of this historical fiction read. The author grabs you and doesn't let go and even got me to shed a few tears. I can't wait to put this book in readers' hands."- Karen Schwettman, Foxtale Book Shoppe, Woodstock, GA
"I finished The Last Train to London moments ago albeit hiding in the bookstore reading while I worked. I'm not even sure I can put my feelings into words; it was beautiful. Clayton weaves together the stories of many character with ease. The imagery made me feel like I was actually in the underground with Stephan or with Truus on all her journeys saving the children. I think that Clayton exemplified the plight of the children parents sent away to safety; I was nearly moved to tears and I haven't cried reading since Dobby was killed in The Deathly Hallows. I usually pass along my ARCs to friends or family but I'm selfishly keeping The Last Train to London safe on my nightstand. Thank you and Harper Collins for presenting such a wonderful story and to Clayton for bringing Stephen, Walter, Žofe and all to life." – Sarah Stone, The Twig Bookshop, San Antonio, TX
"Scrupulously researched and based on a real heroine of the Dutch resistance, The Last Train to London brings to vivid life the extraordinary bravery shown by one fiercely dedicated childless woman to save the lives of literally thousands of innocent children as Hitler marshaled his forces across Europe. By writing the kindertransport story as a novel, Meg Waite Clayton captures the humanity of the young victims and the inhumanity of those who were "just following orders" more than any biography could. A memorable addition to the literature of World War II and one that is eerily relevant to present day migratory struggles the world over." – Marion Abbott, Mrs. Dalloway's Bookstore, Berkeley, CA
"Meg Waite Clayton has written a beautiful and heart wrenching tale of WW II sharing a story we've not heard before. Set in pre-war Vienna, the Nazis are on the rise and beginning to change the worlds of young Stephen Neuman a wealthy, aspiring playwright and a Jew and his best friend, the brilliant Zofie-Helene, daughter of a Christian anti-Nazi journalist. Enter Tante Truss, the real life heroine who successfully smuggled hundreds of Jewish children out of Nazi Europe in what history knows as the Kindertransport. In Clayton's deft and capable hands, this is a page turning, heart tearing and warming story based on real events that should be added to bookshelves along the best WW II novels. For fans of Nightingale and The Orphan Train." – {pages} bookstore, Manhattan Beach, CA
"A very moving account of the separation of German parents and the children they sent to safety." – Beverly Sears, Winchester Book Gallery, Winchester, VA
"What ordinary people (and many of them women) did to help strangers from a wrong so inconceivable, at such great risk to themselves, is astonishing. Each of us really do have the power to affect great change if we're only brave enough to do it. The strength of parents to send their children away was the ultimate act of love and sacrifice. And the resilience of those poor poor children is truly remarkable. The Last Train to London brings so much to light, and reflects so well what is happening right now. This may be Meg Waite Clayton's best to date!" – Julie Slavinsky, Warwick's, La Jolla, CA
"Meg Waite Clayton has proved herself a deft hand with historical fiction in the past, but she has outdone herself with The Last Train to London. Perfectly situated at the intersection of fact and fiction, it is ultimately Clayton's strength as a storyteller that breathes life into this tale of Truus Wijsmuller, a real-life Dutch resistance fighter, who saved countless Jewish children from Nazis via the Kindertransport. And what a story it is! Prepare yourself to turn pages breathlessly, and keep the tissues close at hand. Novels featuring Nazis are not known for their uplifting themes or happy endings, but in what is definitely a tale for our times, one woman decided to be the change she wanted to see in the world. This book should be required reading for people of all stripes!" – Susan Tunis, Bookshop West Portal, San Francisco, CA