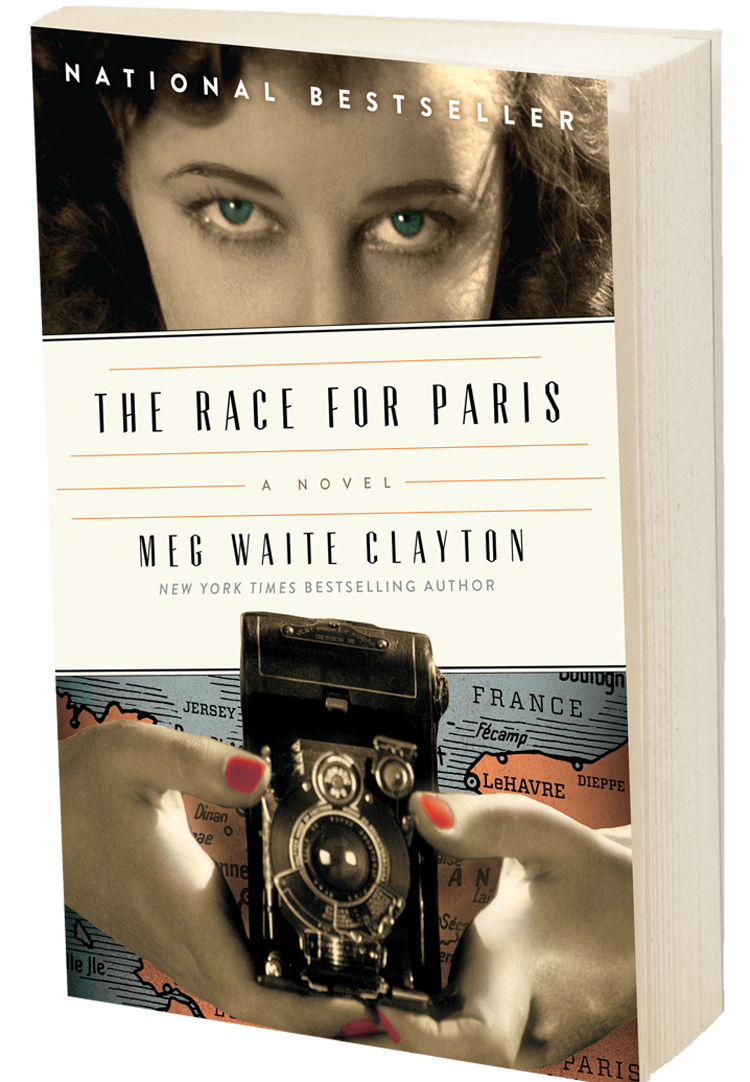 Available now at
Books INC Keplers IndieBound Amazon
Barnes & Noble Apple Harper Collins
Sign up for Meg's Mailing List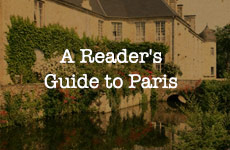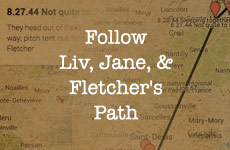 For updates, please join Meg's Readers' Circle
VIP news and giveaways, sneak peeks at new releases, help with research questions, character naming, and title and cover selection
I do not ever, for any purpose, share your information with anyone else. And if you change your email or your mind, all correspondence will come with easy update and unsubscribe links. Thanks!
Read an Excerpt | For Bookgroups and Readers
• A National Bestseller
• Recipient of the David J. Langum, Sr. Prize for American Historical Fiction Honorable Mention (2nd Place)
• An Indie Next Great Read – Bookseller picks of their favorite books
• A Historical Novel Reviews Editors' Choice
• A Glamour Magazine recommended read
• One of the BBC's 10 Best summer reads of 2015
• A Bookreporter "Bets On" Selection
• A Los Angeles Times Bestseller
• A NCIBA/San Francisco Chronicle Bestseller
"I would give anything to be part of the invasion and see Paris right at the beginning and watch the peace."—Journalist Martha Gellhorn, from letter dated December 13, 1943
Two journalists, denied access to press camps and the front, join forces with a military photographer and race toward Paris, to record its liberation from the Nazis and thereby make history. Inspired by women who defied military regulations and gender barriers, and indeed risked their lives to report from the Normandy front, this novel was more than 15 years in the making—a labor of passion, love, and pure literary stubbornness.
"I DEVOURED The Race for Paris…Those who enjoyed The Nightingale will want to give this one a look for another perspective on women during the war!" —CAROL FITZGERALD, BOOKREPORTER
David J. Langum, Sr. Prize for American Historical Fiction, Honorary Mention for 2015:
"This powerful story sweeps the reader into the front lines of battle where conditions for the correspondents are nearly as stark and dangerous as they are for the troops. Well researched and rich with vivid descriptions of wartime France, Clayton skillfully keeps the focus on the characters' ambitions and personal dilemmas … Layered with complicated relationships and motives, this gripping story about the correspondents' quest to record events while dealing with their own quandaries fully engages the reader … Many novelists have written about World War II, but Meg Waite Clayton brings a new perspective not only to the war but to the risks endured by journalists and photographers." – Ann Weisgarber, writing for the David J. Langum, Sr. Prize for American Historical Fiction
"The Race for Paris is an ACTION-PACKED tale of courage, friendship, and love … Clayton's TRIUMPHANT new novel brings to life the intrepid female journalists who sought to break the limits of the times…Gather your book club and prepare for an intense conversation as THESE CHARACTERS WILL HAUNT YOU LONG AFTER YOU TURN THE FINAL PAGE!" —Pamela Klinger-Horn, Excelsior Bay Books, Excelsior, MN, from the Indie Next Great Reads list
"[Clayton's] THRILLING new novel, The Race for Paris, is the story of two ambitious women in World War II. Journalist Jane Tyler and photographer Olivia "Liv" Harper are determined to become the first female American war correspondents to cover the liberation of Paris, and Clayton makes the race to get there a DANGEROUS, FAST-MOVING ADVENTURE." —Georgia Rowe, The San Jose Mercury News
"…a STRIKING glimpse into what life was like for the predecessors of some of today's most famous female journalists." —KIRKUS Reviews
"Clayton's GRIPPING tale was inspired by the women writers and photographers who broke through bureaucratic and gender barriers to report from the front lines … There's danger, secrets, and romance in the story, along with the underlying deep need of Jane, Liv, and Fletcher, to portray the truth about the war." —Historical Novel Reviews
"AMBITIOUS, RIVETING…Deftly weaving fact and fiction, Clayton captures the texture and cadence of daily life in a world that is anything but ordinary." —Christina Baker Kline, #1 New York Times bestselling author of Orphan Train
"SMART, ENGROSSING, and ultimately HEARTBREAKING…I LOVED THIS BOOK." —Sara Gruen, #1 New York Times bestselling author of At the Water's Edge and Water for Elephants
A Bit More about The Race for Paris
What was it like to be a driven and talented woman journalist in a world restricted by military regulations and gender barriers? Bestselling author Meg Waite Clayton delivers answers in her highly and widely anticipated new novel, The Race for Paris. Opening in Normandy on June 29, 1944, the novel follows two tenacious American female war correspondents on their quest to document—and make—history by covering the liberation of Paris from the center of the action. Inspired by real women like Martha Gellhorn, Margaret Bourke-White, Dot Avery, and Lee Miller, who took bold, grave risks to prove that they could report from the front lines of WWII just as powerfully as men, The Race for Paris firmly reflects historical facts and details, while pulsing with immediate drama—and a chilling, timely sense of wartime danger.
Told from the perspective of Jane Tyler, a young, single, adventure-seeking reporter for the Nashville Banner and the only daughter of an ostracized unwed mother, The Race for Paris is also the story of Olivia "Liv" Harper, an Associated Press photographer with a supportive husband who is the editor-in-chief of the New York Daily Press. While Jane is resigned to making the most of her assignment covering a field hospital, Liv is set on capturing the war—and the jubilant liberation of Paris from Nazi occupation—from the front lines. After failing to win over her CO, Liv goes AWOL. Seizing her shot to make a name for herself, Jane joins her. Enlisting the help of a tentative ally, British military reporter Fletcher Roebuck, the two intrepid women set off across the perilous French countryside on a race to reach Paris and out-scoop formidable male competitors. Along their journey, Jane, Liv, and Fletcher continually confront obstacles, and cross paths with gunfire, carnage, and death. Their mission is further complicated by emotional bonds, romantic tensions, and one woman's secret—a secret with the power to end her career and, perhaps, her life.
Reflecting the extraordinary courage and determination of pioneering women in journalism—women who paved the way for respected war correspondents such as Christiane Amanpour, Oriana Fallaci, and Lynsey Addario—The Race for Paris is a gripping novel celebrating the power of women, then and now.
The Race for Paris Author's Note
This novel was inspired by the women who defied military regulations and gender barriers to cover World War II and the "race for Paris," vying to be among the first to report from the liberated city in the summer of 1944. They did so by stowing away in bathrooms of Channel-crossing boats, going AWOL from support positions to get to the front lines, climbing fences meant to contain them, struggling to get their photographs and stories out, and risking their lives. Despite being confronted with red tape and derision, denied access to jeeps and to the information and accommodations provided to their male colleagues at press camps, pursued by military police, and even arrested and stripped of credentials, women like Lee Carson, Helen Kirkpatrick, Sigrid Schultz, Iris Carpenter, Ruth Cowan, Lee Miller, Sonia Tomara, Catherine Coyne, Dot Avery, Virginia Irwin, Judy Barden, Tania Long, Barbara Wace, Margaret Bourke-White, and Martha Gellhorn proved that they could report the war, and opened the way for generations of women. Although this is a work of fiction, I've striven to make it historically accurate, and to that end have borrowed heavily from the facts of the lives of soldiers, support troops, journalists, and civilians involved in the war, and particularly from the experiences of these pioneering women.
Praise for The Race for Paris
"Meg Waite Clayton is at the top of her game with this ambitious, riveting novel. Set in France in 1944, The Race for Paris brings to life the yearnings, ideals and aspirations of a female reporter and a photographer who risk their lives to document the final months of the Nazi occupation. 'You don't find courage, it finds you,' one character remarks. As they make their way toward Paris, the two women discover how true this is, in ways they could never have anticipated. Deftly weaving fact and fiction, Clayton captures the texture and cadence of daily life in a world that is anything but ordinary." —Christina Baker Kline, #1 New York Times bestselling author of Orphan Train
"A smart, engrossing, and ultimately heartbreaking story of two women journalists and the British military photographer who travels with them from Normandy to Paris in the summer of 1944. In its exploration of the barriers women journalists faced in covering the war, The Race for Paris delivers a clear and fresh perspective on World War II. In the trueness of her characters and the exquisitely drawn, sometimes funny and often haunting scenes, Clayton gives us a story of friendship, love, and sacrifice that no one who has the pleasure of reading it will soon forget. I loved this book." —Sara Gruen, #1 New York Times bestselling author of At the Water's Edge and Water for Elephants
"This marvelous novel has everything—adventure, romance, history, and most of all heart. Every reader who enters this 'Race' will come out a winner." —ANN PACKER, NEW YORK TIMES BESTSELLING AUTHOR OF THE DIVE FROM CLAUSEN'S PIER AND THE CHILDREN'S CRUSADE
"[I]n the days and weeks following D-Day, the press tracked the "race to Paris," but there was another race going on alongside the Allied armies' advance: Which journalist would be the first to document the liberation of the City of Light? Clayton focuses her involving and thoroughly researched historical novel on a too-little-documented aspect of that race—the female reporters and photographers who attempted to scoop their male counterparts, despite the army's attempt to keep the women away from the front lines…Entertaining and enlightening reading." —BILL OTT, BOOKLIST
"…Clayton's most ambitious undertaking to date may be fiction, but it's impeccably researched, offering a striking glimpse into what life was like for the predecessors of some of today's most famous female journalists. A must for World War II buffs and fans of sharp, boundary-busting female characters." —KIRKUS
"Meg Waite Clayton gives us what we want from historic fiction. She introduces us to a world we never knew existed and then makes it utterly compelling. I loved the story of these brave women, the risks they took, the ambitions that fed them. Moving and gripping, it is a thriller of women and war. And thanks to Clayton, 'Anonymous' just got a little less anonymous." —MARY MORRIS, AWARD-WINNING AUTHOR OF THE JAZZ PALACE AND THE RIVER QUEEN
"I devoured THE RACE FOR PARIS by Meg Waite Clayton. It's historical fiction about a newswoman and a female photographer, who have their eye on the prize of getting to Paris to cover the liberation. War is still raging, and there are endless military regulations restricting them. The two women bond with a British male journalist who they persuade to escort them. And the race is on. Based on real-life reporters like Margaret Bourke-White and Martha Gellhorn, it is a very compelling read. Those who enjoyed THE NIGHTINGALE will want to give this one a look for another perspective on women during the war!" —CAROL FITZGERALD, BOOKREPORTER
"Don't wait to read The Race for Paris. It's a fine book." —Harry Levins, The St. Louis Post-Dispatch
"Clayton's gripping tale was inspired by the women writers and photographers who broke through bureaucratic and gender barriers to report from the front lines&helip;There's danger, secrets, and romance in the story, along with the underlying deep need of Jane, Liv, and Fletcher, to portray the truth about the war&helip;well-drawn characters for whom this reader grew to care very much." —Helene Williams, HISTORICAL NOVEL REVIEWS
"Sophisticated and well structured … Clayton's description of the liberation of Paris is riveting. She skillfully reveals the inadequacies of one photo or one article to capture the full magnitude of such an event. And her prose stirs the imagination … a fine novel." —David Hendricks, SAN ANTONIO EXPRESS-NEWS
"an amazing story of friendship and courage&helip;Meg Waite Clayton paints such a poignant picture of these three individuals that I found myself holding my breath&amp … this book is fascinating." —Amy Gwiazdowski, BOOKREPORTER